US strikes in Syria kill eight pro-Iran fighters
It was the third time in less than three weeks that the US military has targeted locations in Syria it said were tied to Iran
Agence France-Presse November 13, 2023 17:30:54 IST
Representational. File photo
At least eight pro-Iran fighters were killed in US strikes on eastern Syria, a war monitor said Monday, a day after Washington carried out raids in response to attacks on American forces.
The toll is "eight pro-Iran fighters dead, including at least one Syrian, and Iraqi nationals", the Syrian Observatory for Human Rights said, following the strikes late Sunday on the Mayadeen and Albu Kamal areas of Syria's eastern Deir Ezzor province near the Iraqi border.
US Defence Secretary Lloyd Austin said Sunday the United States had carried out strikes against two Iran-linked sites in Syria in response to attacks on American forces.
Related Articles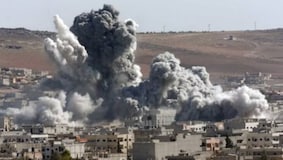 9 killed in US airstrike in Syria in response to attacks by Iranian-backed militias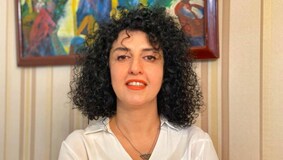 Iran: Jailed Nobel laureate Narges Mohammadi rejects trading medical care for hijab
It was the third time in less than three weeks that the US military has targeted locations in Syria it said were tied to Iran, which supports various armed groups that Washington blames for a spike in attacks on its forces in the Middle East.
The surge is linked to the war between Israel and Hamas, which began when the Palestinian militant group carried out a shock cross-border attack from Gaza on 7 October.
About 1,200 people, mostly civilians, were killed in the Hamas attacks and around 240 people were taken hostage, according to Israeli officials.
Israel's retaliatory military campaign in Gaza since has killed more than 11,000 people, mostly civilians, according to the Hamas-run health ministry.
"US military forces conducted precision strikes today on facilities in eastern Syria used by Iran's Islamic Revolutionary Guard Corps (IRGC) and Iran-affiliated groups in response to continued attacks against US personnel in Iraq and Syria," Austin said in a statement.
"The strikes were conducted against a training facility and a safe house near the cities of Albu Kamal and Mayadeen, respectively," he said.
Iran's foreign ministry spokesman Nasser Kanani said Monday that "the Americans make unproven claims such as resistance forces taking orders from Iran".
"We have stated many times that the resistance groups do not take orders from Iran, nor do we give them instructions," he said.
"From the very beginning, the Islamic Republic of Iran has repeatedly expressed its concern about the expansion of the scope of the war."
More attacks
The Britain-based Observatory group said the US strikes destroyed a weapons depot in a town in the Albu Kamal countryside, reporting successive explosions due to ammunition catching fire.
Near Mayadeen, it said the strikes targeted a rocket launch platform.
The United States says the strikes are aimed at deterring attacks on American forces in Iraq and Syria — numbering more than 45 since 17 October — that have wounded dozens of US personnel.
The Observatory said pro-Iran fighters fired around 15 rockets at a base belonging to the US-led coalition fighting the Islamic State group in Syria's Conoco gas field in Deir Ezzor province early Monday.
An Iraqi group said it carried out an overnight attack on the Green Village base in Syria's Al-Omar oil field, also in Deir Ezzor.
The Observatory reported other attacks on coalition bases in Syria, including in neighbouring Hasakeh province.
There are roughly 2,500 American troops in Iraq and some 900 in Syria as part of efforts to prevent a resurgence of IS.
The United States targeted a Tehran-linked weapons storage site in Syria on Wednesday, and also hit two facilities in the country on October 26 that it said were used by Iran and affiliated organisations.
The Israel-Hamas conflict has had also repercussions for the United States outside of Iraq and Syria.
The Iran-backed Huthi rebels in Yemen said Wednesday they shot down a US drone that was "carrying out hostile surveillance and espionage activities in Yemeni territorial waters as part of American military support" for Israel.